---
Traditional Sea Scout, Quartermaster, and adult uniforms for both men and women at affordable prices. Included are community strips and numbers (white on black), knots, badges of offices, and uniform accessories. Program support materials are also available (score cards, advancement wall charts, bumper stickers, etc.). "We know what you need and we've got it. The right goods, always."
We try our best to find quality uniforming for our youth and adults, some clothing items are surplus. Ships Stores appreciates your support and patience. If you have a lead on Dress blues or dress whites, please email us. We need your continued support for our youth and adults.
---
Ship Stores is taking orders for name tags
Found a new vendor!
Name Tags: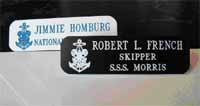 Each Name tag has the Sea Scout Logo engraved on the Left side of the name tag.
Maximum of 3 lines, 15 characters per line.
Measure's 3 in. and is secured with double post bar pin on the back.
Choose from three styles available. Name tags are great for Leaders as well as Scouts.
These are made to order and may take up to 8 weeks for delivery.
Silver with Black Lettering
Black with White Lettering
White with Blue Lettering
Cost per Name Plate
2-Line (includes engraving): $6.50
3-Line (includes engraving): $7.50
Shipping cost:$5.00 per order — Name tags are special ordered and ship separately from other orders.
This shipping charge is in addition to any shipping charges for other items ordered.
Name Tags: (order form example)
1st Line: Name
2nd Line: Position
3rd LIne: Ship's Name

John Doe
Skipper
SSS AnyShip
---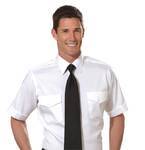 NEW!
Men and Women's White Van Heusen short sleeve dress shirts with epaulets!
I'm very excited to be able to stock the white shirts that everyone has been asking about. They are set to arrive here by Sept. 7, 2012 Men's sizes will start at 15 ½ to 22 neck size Women's sizes will start at 10 to 24. Cost: 18.00
---
NEW ITEMS!!!
Officers Hat (Male) White Rain Covers (Customer hat size needed)
WHRC
$12.00
Committee Member Collar Marks


H21864CM
$9.00
Boatswains Pipe (Silver, no pitch adjustment)


1043-0
$18.00
Watch Cap
100 Year Long Cruise Patch.
$1.00 from each patch will be donated to the National Sea Scout Memorial.
WatchCap
LNCRGold
$15.00
$3.90:Limited Quantities
Black Seal Patch
White Seal Patch
SPB
SPW
$2.90

$2.90

Item Restrictions:
Must send certificate of completion of course.
Item Restrictions:
Must send certificate of completion of course.
Chambray Seal Patch
Khaki Seal Patch
SPC
SPK
$2.90

$2.90

Item Restrictions:
Must send certificate of completion of course.
Item Restrictions:
Must send certificate of completion of course.

Sterling Silver Quartermaster Charm
A great gift idea for mothers, mentors, or the Quartermaster


Order # - 1qmch
Cost - $17.00

Officer's Hat Band and Pin
Catalog Number JEOHB
Cost: 22.50

We will still be carrying the Original Officer's Hat Bands
OHB
$18.50
---
To All My Valued Customers,
Ship's Stores works hard to supply uniform needs to youth and adults in Sea Scouting. We also work to keep our prices low enough for affordable uniforms and insignia to the youth in the program. I am a volunteer that works hard to help the youth, I also work outside of Ships Stores.
Jackie Watanabe, proprietor.