IMPORTANT NOTE:

Please not new E-mail. Affective April 7, 2015, the E-mail address Ship Stores will be changing to merlotjw@comcast.net from merlotjw@clearwirenet. Please make changes to your E-mail contact, and start using merlotjw@comcast.net.
Dear Customers,
Since 2003, I have been helping the Sea Scout adults and youth with your supply needs. I have been truly blessed with some of the best customers across the United States. It has been a pleasure to work with the National leaders, Youth Leaders, and Scouters. To all of you that have spent years working with me, I know I have had to make changes to communicate with you. So, here we go again.
I wanted to let you all know as of April I will be migrating to a new email address. As soon as I have the new address, I will post it. Please continue to use the merlotjw@clearwire.net for your needs.
Most of you are aware that I work another full time job, the best way to get in touch with me is via email, or text messages. These two sources make it easier for me to respond to your questions much faster.
Thank you again, Jackie
---
Traditional Sea Scout, Quartermaster, and adult uniforms for both men and
women at affordable prices. Included are community strips and numbers
(White, Black, or Chambray), knots, badges of offices, and uniform
accessories. "We know what you need and we've got it. The right goods,
always." 
Ship's Stores works hard to supply uniform needs to youth and adults in
Sea Scouting.  We also work to keep our prices low enough for affordable
uniforms and insignia to the youth in the program.
We try our best to find quality uniforming for our youth and adults, some
clothing items are surplus. Ships Stores appreciates your support and
patience. If you have a lead on Dress blues or dress whites, please email
me. We need your continued support for our youth and adults.
I work outside of Ship's Stores, the best way to contact me is via Email or
send me a text with your name included in the message.
Jackie Watanabe, proprietor. 
209.747.5308
merlotjw@comcast.net
---
Ship Stores is taking orders for name tags
Found a new vendor!
Name Tags: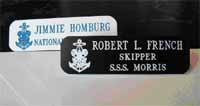 Each Name tag has the Sea Scout Logo engraved on the Left side of the name tag.
Maximum of 3 lines, 15 characters per line.
Measure's 3 in. and is secured with double post bar pin on the back.
Choose from three styles available. Name tags are great for Leaders as well as Scouts.
These are made to order and may take up to 8 weeks for delivery.
Silver with Black Lettering
Black with White Lettering
White with Blue Lettering
Cost per Name Plate
2-Line (includes engraving): $12.95
3-Line (includes engraving): $12.95
Shipping cost:$5.00 per order — Name tags are special ordered and ship separately from other orders.
This shipping charge is in addition to any shipping charges for other items ordered.
Name Tags: (order form example)
1st Line: Name
2nd Line: Position
3rd Line: Ship's Name

John Doe
Skipper
SSS Any Ship
---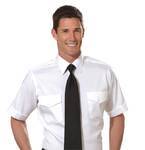 NEW!
Men and Women's White Van Heusen short sleeve dress shirts with epaulets!
I'm very excited to be able to stock the white shirts that everyone has been asking about. They are set to arrive here by Sept. 7, 2012 Men's sizes will start at 15 ½ to 22 neck size Women's sizes will start at 10 to 24. Cost: 18.00
---
NEW ITEMS!!!
"Gildan" hooded Sweatshirt: WHILE SUPPLIES LAST

"Sea Scout logo"

Catalog: Sweatshirt
Price: $35.00

Current sizes available
L (apx. 8 left)
XL (apx. 8 left)
2XL (apx. 3 left)

***Please email for availability

Junior Officer Patches
Catalog: JOPB, Black
JOBK, Khaki
JOPW, White
Cost: 1.50

Tie Bar

H21612TB
$8.50
Handmade Boatswain's Pipe Lanyard
Quartermaster made


$30.00
Officers Hat (Male) White Rain Covers (Customer hat size needed)
WHRC
$12.00
Committee Chairman(left) and Member(right) Collar Marks


H21864CC H21864CM
$9.00 pr. $9.00 pr.
Boatswains Pipe (Silver, no pitch adjustment)


1043-0
$18.00
Watch Cap
100 Year Long Cruise Patch.
$1.00 from each patch will be donated to the National Sea Scout Memorial.
WatchCap
LNCRGold
$15.00
$3.90:Limited Quantities
---
To All My Valued Customers,
Notice Regarding Insignia:
At Ships-Store.com we strive provide the best quality insignia to meet the needs of Sea Scout Ships; including some ships that have chosen to use non-standard insignia. While we are happy to meet those needs, we've been asked by the National Sea Scout Commodore and the National Sea Scout Director to post this notice:
The Sea Scout Manual, supplemented by the website SeaScout.org, describes the standard uniforms and insignia of Sea Scouts, BSA. The National Sea Scout Committee encourages all Ships to wear only standard insignia.
The following items are not National standard insignia; and should not be worn at National Sea Scouting Events:
- JOPB, JOPK, JOPW; Junior Officer – use the specialist emblem
- CCB, CCW, CMB, CMW, EPASCM, EPASCH, H21864CM; Committee Chair and Committee Member – use the same insignia as Mate
- UNSKSB, UNSBSB, UNSWSB; double trident "knot"
Although not included in the Sea Scout Manual, various knots on black or white cloth, and cloth SEAL insignia, are accepted as being in general use in the Sea Scout program.
Jackie Watanabe, proprietor.